Travel to The Forum Shops at Caesars®
WITH SO MUCH TO DO, WE'RE THE PERFECT DESTINATION.
When it comes to a unique shopping experience, The Forum Shops has no rival in the world. While strolling a street in ancient Rome, you'll find more than 160 specialty shops and restaurants comprise the center, creating a retail attraction similar to the Via Condotti or Rue Faubourg St. Honore. The Forum Shops' location is unmatched — adjacent to Caesars Palace at the heart of the famous Las Vegas Strip. The Forum Shops hosts the equivalent of more than two-thirds of all visitors to Las Vegas. The shopping center is open seven days a week with access 24-hours a day, 365 days a year. Stores and restaurants are open 10 a.m. to 11 p.m. and until midnight on Fridays and Saturdays.
The Forum Shops is home to some of the world's most celebrated retailers. Specialty shops include Salvatore Ferragamo, Louis Vuitton, Marc Jacobs, Emporio Armani, Christian Louboutin, Juicy Couture, Ted Baker London, Tod's, MAC Cosmetics, Tory Burch, Tiffany & Co., David Yurman, Michael Kors, Balenciaga, Versace, Gucci, Jimmy Choo and CH Carolina Herrera. Restaurants include Spago, Joe's Seafood, Prime Steak & Stone Crab, The Palm•Las Vegas, Sushi Roku, Il Mulino New York, Max Brenner – Chocolate by the Bald Man and P.J. Clarke's.
---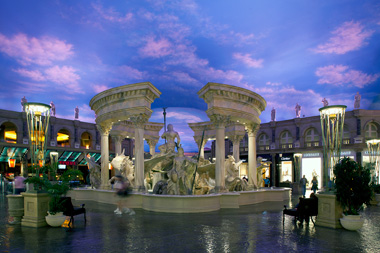 The grandest of Las Vegas Hotels, Caesars Palace, is famous worldwide for its magnificent beauty and impeccable service. At Caesars Palace you will find more than 129,000 square feet of casino gaming space on the Las Vegas Strip. You'll find everything from slots to your favorite table games. The Garden of the God's pool offers the most spacious and stately pool experience with luxurious cabanas and palatial sunbathing spots. Qua Baths & Spa® is a refuge inspired by the baths of ancient Rome.
---
The Forum Shops is located on Las Vegas Blvd., South, at Flamingo Rd. (On the Las Vegas Strip on the grounds of Caesars Palace. The project is connected to the north side of Caesars Palace). Site is just north of the Four Corners (Las Vegas Blvd., South at Flamingo Rd.), one of the busiest and most famous intersections in the world. We're five minutes from the I-15/ U.S. 95 interchange.

From the Airport: McCarran International Airport to 215 West to Las Vegas Blvd.; or McCarran International Airport to Tropicana to Las Vegas Blvd.

From the North: I-15 to E. Flamingo Road to Las Vegas Blvd.

From the South: I-15 to E. Flamingo Road to Las Vegas Blvd.

From the East: E. Flamingo Road to Las Vegas Blvd.

From the West: W. Flamingo Road to Las Vegas Blvd.

---
There is so much to do and see in Las Vegas, we can't recommend leaving, especially during a short stay. But if you want to explore, you have many options. Cities in California within driving distance to Las Vegas include Los Angeles, Santa Monica, San Diego, San Bernardino, Anaheim, Barstow, Victorville, Bakersfield and Santa Barbara. In Arizona, you can easily reach Phoenix, Flagstaff, Lake Havasu, Kingman Bullhead City, and the Grand Canyon. And within Nevada, there is Laughlin and Mesquite. St. George and Cedar City in Utah present a couple more options.
gmap
LEARN MORE ABOUT OUR LAS VEGAS MALLS
The Forum Shops at Caesars continues to define the luxury retail landscape in Las Vegas. Featuring 160 high fashion retailers and gourmet restaurants, and an array of world-class attractions, The Forum Shops continues to be the leader in Las Vegas.
The Colosseum is a modern replica of Rome'sarchitectural wonder, complete with world class acoustics and a classic style.Designed to accommodate stage shows of all varieties, including theworld-reknowned Caesars' headliners, The Colosseum seats an impressive 4,298with no seat farther than 120-feet from the stage and is equipped withstate-of-the-art audio and visual elements, including one of the largest indoorhigh-definition LED screens in North America (120-feet wide by 33-feet tall).With superstar talent and events, such as Celine Dion, Jerry Seinfeld, EltonJohn and Rod Stewart, The Colosseum hosts the best entertainment in the world.
Looking for luxury in Las Vegas Nightclubs? Whether it'sthe sophistication of world-famous PURE or the flirty fun of Shadow, yourevening out in the world's most electrifying city will be unforgettable.
---
Taxi, Limousine and Bus drop off/pick up is available aForum Shops Lower Valet Parking.
---
Get deals and special VIP mall events right to yourinbox– sign up to become a Mall Insider today.