WITH SO MUCH TO DO, WE'RE THE PERFECT DESTINATION.
Cape Cod is known for its beautiful beaches along 559 miles of pristine coastline as well as fresh local seafood. That, along with its historical charm, arts, and culture, makes Cape Cod the perfect place for your next adventure. Whether it's a family vacation, business travel, or a romantic weekend, we have everything you need.
Cape Cod Mall is the region's only enclosed shopping center centrally located in Hyannis, the heart of the "mid-Cape" area. The mall is home to nearly 100 shops & eateries, impressive national and regional brands, and Cape Cod's only stadium-style movie theatre multiplex.
---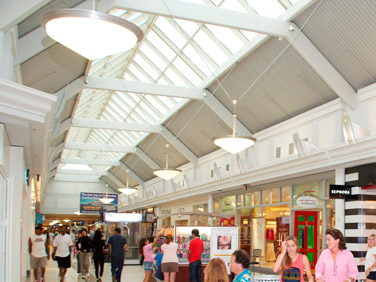 Cape Cod has 17 towns including the islands of Martha's Vineyard & Nantucket, each with their own unique style and personality. The Cape offers: Museums, theatre, beaches, ponds, walking trails, water sports, biking, golf, the JFK Hyannis Museum, the Cape Cod Baseball League, world class restaurants, art galleries, farmers markets, vineyards, whale-watching, and many seasonal festivals. And of course, fantastic shopping!

Where to stay: Options abound! Luxury inns, family and pet-friendly resorts, bed & breakfasts, major hotels, local guesthouses, and campgrounds.
---
Cape Cod is just 90 miles from Boston and Providence, home to TF Green and Logan International Airports, respectively. Or if you prefer, fly directly into Barnstable's newly renovated Municipal airport in Hyannis, less than half a mile from the mall.
From the Airport: Located just west of the Airport Rotary off on Routes 132 and Route 28

From Downtown / City Center: 2 miles from Downtown Hyannis

From North/East: Take Exit 6 off Route 6. Bear right off the exit onto Route 132. Cape Cod Mall is located 3 miles ahead on the right.

From South/West: Take Exit 6 off Route 6. Turn left off the exit onto Route 132. Cape Cod Mall is located 3 miles ahead on the right.
---
While visiting Cape Cod, be sure to explore these other fascinating areas: Plymouth, MA (35 miles away), Boston, MA (90 miles away) or Newport, RI (90 miles away). Each is just a short drive away, and they offer their own rich cultural experiences, waterfront settings, museums, dining, shops & much more.
gmap
LEARN MORE ABOUT OUR BOSTON/NEW ENGLAND MALLS
Cape Cod Mall, in Hyannis, is the only indoor regional shopping center on the Cape and the surrounding islands. Anchored by Barnes & Noble, Best Buy, Macy's Apparel, Macy's Men and Home, Marshalls, and Sears, shoppers can make a day of it browsing through nearly 100 stores and eateries
Whether you are in the mood for a great meal, taking in a show, seeing a concert or dancing the night away, you are sure to find a variety of options on Cape Cod.
The Cape is split up into five distinct areas - be sure to explore each of them.
The Upper Cape: Bourne, Sandwich, Falmouth, Mashpee
The Mid-Cape: Barnstable (7 villages including Hyannis), Yarmouth, Dennis
The Lower Cape: Harwich, Brewster, Chatham, Orleans
The Outer Cape: Eastham, Wellfleet, Truro, Provincetown
The Islands: Martha's Vineyard, Nantucket
---
Cape Cod is easy to navigate but getting from one end to the other takes a bit of travel. The Cape Cod RTA provides clean, friendly & reliable public transportation. But the last route may end earlier than you want and getting a cab in remote areas of The Cape can be a challenge. So it's wise to rent a car or hire a car service if you plan to travel outside of walking or biking distance from your lodging.
---
Get deals and special VIP mall events right to your inbox– sign up to become a Mall Insider today.